In 1998, my son Nicholas attended the second grade. He loved playing Olly Olly Oxen Free with a posse of neighborhood kids. Our daughter Erin was in third grade. She and the little girl who lived next door, Morgan Cotter, were best friends. She wore only dresses and climbed over the back fence to play with Morgan because she wasn't allowed to go out front alone. Which led to many ripped dresses.
The Cotters moved first. The neighborhood deteriorated more quickly than a person would think possible. Soon after we went house hunting to buy our first house. We were on our way to look at lots to build a home, when we drove past a new subdivision off Bandera Road and 1604. People who know the area are cringing, but back then it was wide open. No shopping center, no movie theater, no mega-H.E.B., and Helotes was still a sleepy little town with character.
When we got out of the car, Erin surveyed the front yard and asked, "What are those sticks in the ground."
"Those are trees," Tim responded.
The house looked beautiful. And big. And more than we could afford. As it happens, the woman who had it built, bailed on closing day. It was priced to sale for a family who'd never been homeowners before. A few weeks later we moved into the nicest house I'd ever lived in.
Fast forward twenty years. We're moving on. If all goes well at the closing later this week, Tim and I will move to a new-to-us-house in the country. We're empty nesters no longer in need of all those bedrooms. Because of my mobility issues, we need a one-story home. They tell me this two-story brick and siding house is full of outdated amenities, appliances, and fixtures that will be renovated by the house flippers who bought it. But all I see are memories—the good, the bad, the beautiful, and the ugly:
Erin and Nicholas help Tim plant two trees in the back yard. One is now a full-sized red maple that shades the back of the house. The other had to be cut down earlier this year when it succumbed to some strange disease.
Erin and Nicholas use nylon sleeping bags to slide down the stairs. Nicholas chasing Erin through the kitchen, skidding on the linoleum, and smashing through a cabinet door.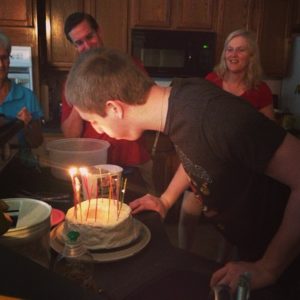 I look out the windows to the backyard and Tim's planting yellow bells, Pride of Barbados, lantanas, and verbenas in a color native plant scape. Or barbecuing fajitas in December.
We bake and frost cut-out sugar cookies every Christmas Eve. Sometimes it was a Hallmark movie moment. One time I sat on the stairs crying because they wouldn't quit fighting until they apologized and promised to do better. We had plenty of moments like that in this house, but who needs a movie reel with those less-than-stellar memories to spoil a feel-good moment?
We read "The Night Before Christmas" and put cookies on a plate next to a glass of milk for Santa. Tim blares Christmas music to wake the kids up the next day so they could run down the stairs and open presents.
We watch the kids rollerblade in the cul-de-sac on Christmas morning after we opened presents and ate chocolate chip pancakes. Then we settle onto the couch or carpet and watch our new movies—including "Blair Witch Project."
I play basketball with Nicholas in the driveway and volleyball with Erin in the street in front of the house.
We pull up to the curb in Erin's first car—an old Saturn owned by gypsies who fed us fish. True story. I teach Nicholas to drive in Stinson Elementary School parking lot.
I write my first novel. I sell my first novel. I write a bunch more. Nicholas stands on the stairs yelling "Kelly" to get my attention as I write.
Erin's first boyfriend. Nicholas brings home the young woman he then marries.
I sit on the couch, folding towels, with little grandbaby Brooklyn sleeping next to me. I read books to her. We watch the CMA awards together.
The PLS diagnosis. The cancer diagnosis. Tim's quadruple bypass surgery.
If the walls could talk. Thank goodness, they can't.
I've never been one to become attached to material things. One of five kids, I grew up in a two-bedroom rental. My parents didn't own their first home until I was a senior in high school.  I lived in apartments for ten years before marrying. I look around and I like this house, but what I like more are the vivid memories of our kids that fill every room carpet to ceiling. The stains on the carpet where Erin spilled a soda and fingernail polish. The dangling threads of carpet under the door to her bedroom where Barry the cat dug them up in his neurotic desire to leave her room. The blue paint Nicholas picked out for their bathroom.
Twenty years of memories remind me that it's not the house I'll miss. It's the time spent with my family. This is simply the empty nest. The family and the memories go with me. They are inscribed on my heart and soul.
Tim and I will make new memories in what we're calling our ranch house in the country in this new season in our lives. We'll have a guest room where the kids and the grandkids will stay. I can't wait to see what holiday fun we'll have there. What marks, like inscriptions, they'll leave there. A house isn't a home. Family is.
Please share with me some of your favorite "house" memories and tips for making moving less painful!